The Bugha qualifiers brought the heat on Wednesday, as thousands of trio teams dropped in on the action. Throughout last week, a limited time mode that was centered around the newest Icon Series skin for Bugha. For those who don't know, Kyle Giersdorf is the current and only Fortnite World Cup Champion to date. The eighteen year old phenom has continued his dominance in Fornite to a status of elite professional. When gamers think of the best Fortnite players in the world, Bugha has become the household name to use. When his skin and game mode released, so did the announcement of Bugha's Late Game qualifiers as the next big "cash cup" in Fortnite.

Just like regular arenas, you accumulate points based on your placement and the number of kills you get. Depending on your hype point total, you will load into lobbies with other gamers with a similar hype total. Regardless of your hype point total, the Bugha qualifiers brought the heat as expected. With the various regions hosting qualifiers, the Drop-In Gaming trio jumped in the NA West servers to test the competitive waters around this new game mode.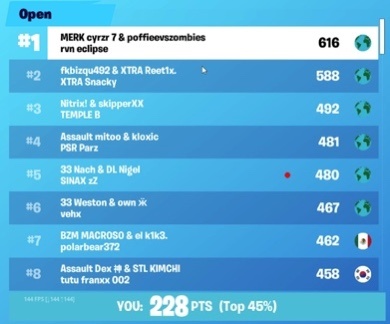 For a group of gamers who don't play Fortnite regularly, the Drop-In Gaming team felt alright about the results. Our goal was to be at least within the top fifty percent of players on the West Coast and we narrowly reached our goal. We earned 228 hype points with only two days of practice prior to the qualifiers. This result is promising for the Drop-In Gaming team! We know where we made our mistakes and areas of improvement so we are looking ahead to make those adjustments. The Drop-In Gaming team is looking forward to the qualifier for the next big Fortnite Cash Cup tournament in the future. Our goal for that qualifier is to place within the top 35% of teams on the West Coast.