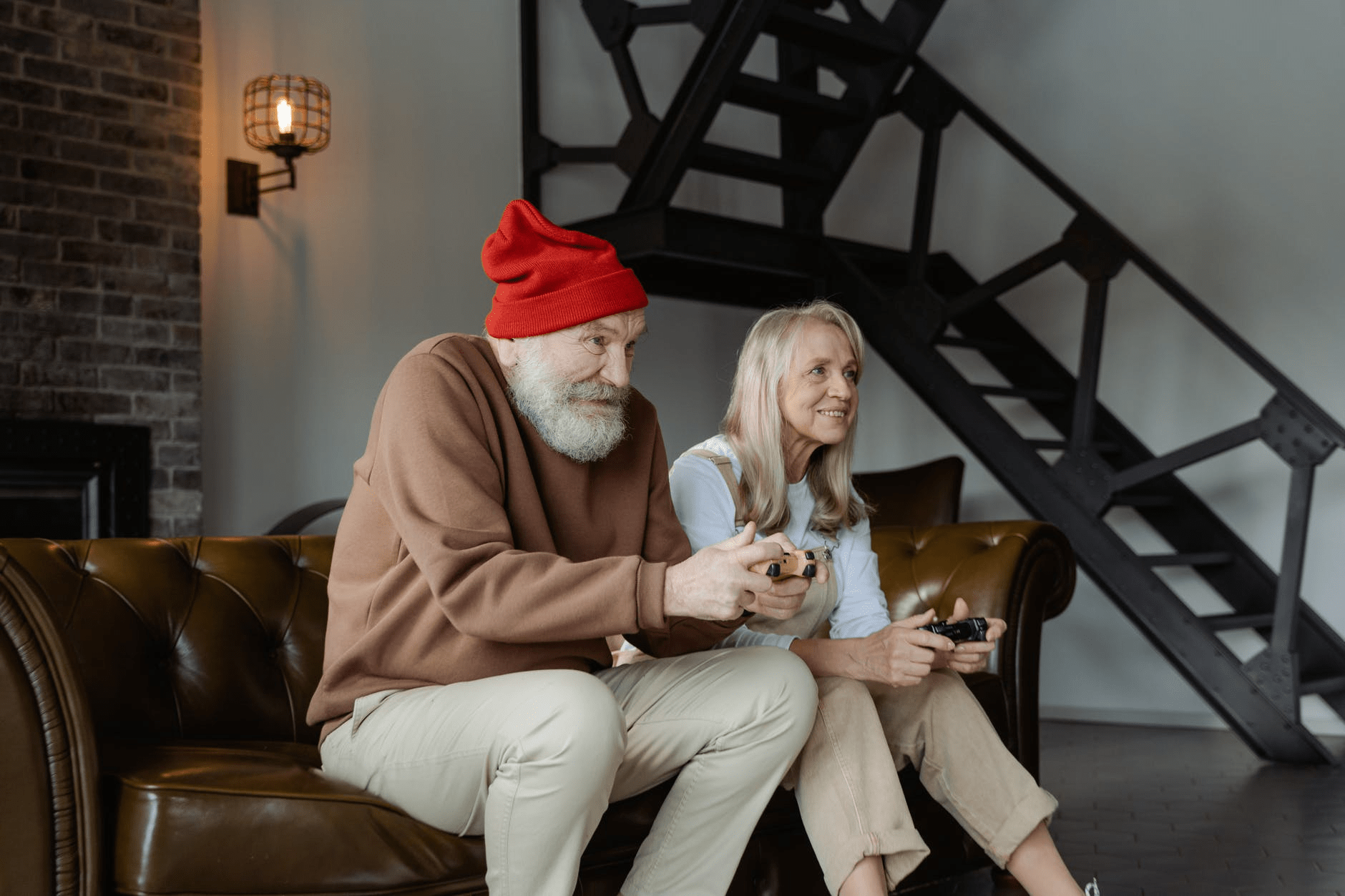 When you think about the "everyday gamer" you're probably not imagining someone who looks like your grandfather — but why not?
Although the average age of a video game player is 33 according to the Entertainment Software Association (ESA), the demographic of older individuals grabbing a controller and spending time playing video games is increasing each year.
In 2016, a study by the American Association of Retired Persons (AARP) and the ESA reported that nearly 40% of Americans over the age of 50 play video games — and that number is growing. In a recent survey, the AARP found that in 2019, 50.6 million Americans over the age of 50 were now regular gamers, and shows that older gamers spent an estimated $3.5 billion on gaming between January and June 2019.
From the mental benefits of gaming for seniors to some of our favorite older gamers and programs, here's an overview of video games and senior citizens.
[Related: Top Female Streamers to Watch]
Benefits of Gaming for Older Gamers
Senior gamers can take advantage of many of the same benefits that younger gamers do, and depending on the game, some seniors could even benefit more. Research from the Alzheimer's Association International Conference shows that certain forms of cognitive stimulation may actually delay the onset of degenerative mental diseases like dementia or Alzheimer's.
Beyond the benefits of mental stimulation, video games also give older gamers the opportunity to stay social and keep connected to family and friends, especially during the COVID-19 pandemic.
Grandparents can play with grandkids across the country, or even make new friends through gaming social platforms like YouTube, Twitch, or online gaming. This adds a new, more entertaining element to keeping in touch via Facetime or Zoom calls.
[Related: Video Game Tournament Glossary]
Some Awesome Senior Gamers
Here are just a few senior gamers, their history, and where to find their videos:
Olivin Corp's Grandfather
Japanese YouTuber Olivin Corp has gained notoriety for posting videos of his 93-year old grandfather playing the driving games "Forza 7" and "Assetto Corsa". His ex-cab and dump-truck driver grandpa loves the classic car options and his videos have over 30,000 views.
Grandpa Gaming
Grandpa Gaming is a 68-year old retired Navy veteran who spends his time on YouTube chatting with his 76.8k followers and playing games such as "Apex Legends," "Call of Duty," and "Fallout."
Hamako Mori
Hamako Mori, also known as "Gaming Grandma," is a 91-year old gamer from Asukusa, Japan. Although she's been playing video games as a hobby with her family since 1981, she only recently set up a YouTube channel in 2014 to share her love of gaming with the world.
Her livestreams include gameplays of "Call of Duty: Modern Warfare" and "Grand Theft Auto 2." Join Gaming Grandma's nearly 520k subscribers and enjoy her weekly videos!
[Related: The Importance of Representation in Video Games]
ISR ESports Senior Facility
Japan is more often than not ahead-of-the-curve when it comes to utilizing new technology and gaming innovation — which is why it comes as no surprise that ISR ESports opened a senior competitive esports facility and cafe in Kobe, Japan.
The nation's first seniors-only esports facility offers a safe environment for those over 60 to explore video and computer games and socialize with other senior gamers.
Xbox: Beyond Generations
In December of 2020, Xbox alongside McCann London launched their "Beyond Generations" campaign. "Xbox: Beyond Generations" aims to emphasize the potential video games have to help senior citizens build relationships, bridge generational divides, and connect.
The campaign publishes videos featuring real families and real senior citizens incorporating video games into their everyday lives, and how it impacts their connection. Xbox also partners with charities and organizations across the globe that provide support and community to older individuals.
With this initiative, Xbox is hoping to empower older people to learn new skills, both social and functional. Xbox is also encouraging younger gamers to donate their old consoles and accessories to senior centers or older family members to spread the joy of gaming.
[Related: The Best Wrist and Hand Exercises for Gamers]
Join the Community at Drop-In Gaming!
Maybe it's time to expand our collective understanding of who the "everyday gamer" really is to include those over the ags of 60, and for video game companies and marketers to take notice of their ever-expanding target audience.
Regardless of your age, Drop-In Gaming is a welcoming community for those who love video games. Join your friends and make new ones in our wide variety of tournaments and matches — you could even win big. Join Drop-In Gaming today to get started!