IF YOU DO NOT FOLLOW ALL OF THE RULES REQUIRED FOR THE TOURNAMENT, YOU MAY BE SUBJECT TO DISQUALIFICATION AND YOUR SCORE RESULTING IN A 1.
You have 10 hours to play and submit your best FIVE games under the tournament you registered for on the Drop-In Gaming website. Example: Tournament begins at 10:00am you have until 8:00pm to play your games, submit your scores with photo/video evidence. Failure to submit your scores and upload proof (pictures/video) will result in a 0 for you.
Format: 10 hour kill race, you will be joining a solos build battle royale game.
You CANNOT play no-build solos.
Screenshots for Score Submission: The screenshots that you submit on our website during the tournament must look like the "replay" screenshot that you see below. MUST SUBMIT YOU OWN SCREENSHOTS WITH YOUR OWN KILLS
You will be submitting your best five games within the 10 hour window. You will submit a screenshot of your replays and a score (kills and placement) for that specific game, five different times.
Requirements to Play: Your tracker.gg profile must be public for the account you're playing on. If your account is private, and our support team cannot validate a score, you may be subject to disqualification. Smurf accounts are also not allowed, you must have at least 50 Fortnite games played on your account in the current season or be at least level 30. If either of these requirements aren't met, you may be asked by a Drop-In Gaming analyst to provide additional information, or be subject to disqualification.
Scoring: 3 points per kill.
10 points for a win. 5 points for 2nd, 3 points for 3rd, 2 points for 4th and 1 point for 5th place.
You are responsible for submitting scores under the tournament you're registered for on our site. You must have replays turned on in Fortnite. Screenshots must come from the replays section on the career tab in the main lobby. Being unable to submit screenshots due to a full replay library or corrupt files are at the discretion of the competitors. Other forms of score submissions will not be accepted. We recommend clearing out your replay library prior to the start of the tournament.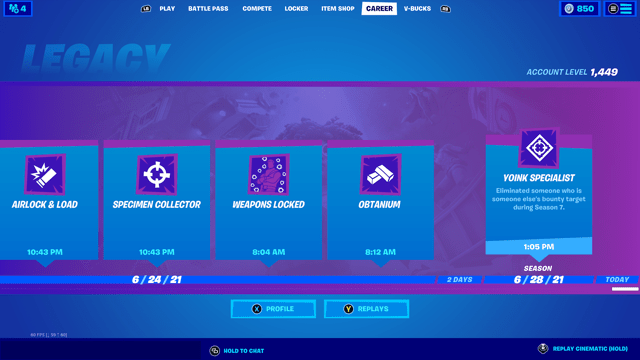 Results: The team with the best total score at the end of the time frame will be the winner and announced on the tournament page. If there is a tie both teams will be notified. The tiebreaker is the individual with the most kills. (If there is a tie after that, the player with the highest placement in their matches will be awarded the winner).
No late submissions will be taken into account for scoring.
Failure to Follow Rules: If you fail to follow the agreed upon rules, you may run the risk of losing all prize winnings or being ineligible to receive funds. Our admin team will be determining the final results and all final decisions. We may reach out to you for more information before making a final conclusion.
Streaming: If you are streaming this tournament, please include it when registered for this tournament, use the example photo below.