One custom lobby code will be used for all 4 matches. Once you and your duo partner die, stay in the lobby and wait till the end of the game. *Do not share the custom code with anyone
Please join our Discord using this link here for any questions: Drop-In Gaming Discord

Each duos team will compete in 4 matches. You will not be able to join this tournament as a solo, you must have a duos partner. Teams must submit their scores with a screenshot (taking into account the scoring system described below) at the end of each game. The custom code will appear on the tournament page you're registered for, in the clan tag section five minutes before the start time.
Custom Lobby Code: The code for the custom tournament will be displayed on the tournament page 5 minutes prior to start time. It will display throughout the whole tournament. If you leave the lobby/get disconnected you can reuse the code once the game ends.
Joining Custom Lobby: Individuals will go to the screen where you normally select the game mode you want to play (Public, Arena or LTM's). You will select the tiny trophy and podium icon on top-right corner of the screen, and select it to bring up the Tournament Match Create & Join screen. Enter your custom code in the proper alphanumeric text field on the screen, and select the "Create or Join" button that will highlight after a code has been entered. Join one of the twenty teams by hovering over the white text box in a slot and selecting it. (You cannot join the private lobby with another member in your party.)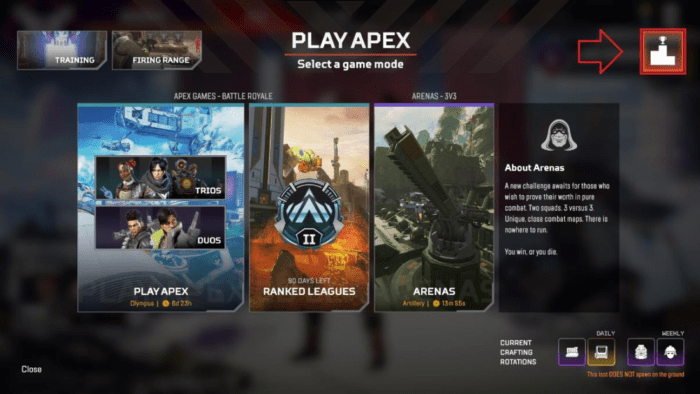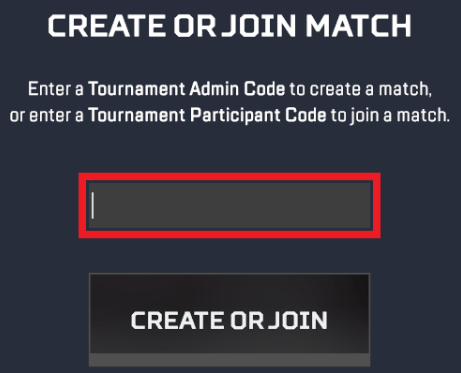 Scoring: ALGS Format – 1 point per kill and placement points.
1st place: 12 points
2nd place: 9 points
3rd place: 7 points
4th place: 5 points
5th place: 4 points
6th-7th place: 3 points
8th-10th place: 2 points
11th-15th place: 1 point
16-20th place: 0 points
Be sure to upload scores and screenshots on the tournament page after each match. Boxes to upload scores and screenshots will populate once the tournament begins.

Results: The team with the best total score at the end of the four matches will be the winner and announced on the tournament page. If there is a tie both team will be notified. The tiebreaker is the individual with the most kills on any given team. (If there is a tie after that, the team with the most damage in their submitted games will win).
No late submissions will be taken into account for scoring.
Social: Each team should post at least once on social media before the tournament, tagging Drop-In Gaming on any platform. View any of our socials on our Linktree (linktr.ee/Dropingamingllc). Also, those streaming put "#Dropingaming" in the title of their stream so we can find you on Twitch.