Drop-In Gaming will host the Warzone lobby and you will add DropinGaming#9593694 on Activision to join the lobby with your duo partner.
How To Play: Teams will play 3 games in the same private lobby and try to get as many kills and the best placement possible, as 1 point is awarded for each kill and up to 10 points based off of your placement. Cross platform must be turned on.  There will be an intermission between games to submit scores and get ready for the next match.
Clan Tag: At least one player on each team must have the clan tag provided by Drop-In Gaming in their clan tag. The clan tag will appear on the tournament page you're registered for 5 minutes before the start time.
Disclaimer: All players must be registered in the tournament to be eligible for prizes. If a player competes without being registered, their team will forfeit buy-in, any awarded prizes, and won't receive a refund. It is your responsibility to ensure that your entire team is registered.
Score Submissions: After each game is played, teams must take a photo of their kills and placement. This can be done in game or with the after action report. You must submit your photo evidence in the tournament you are registered for. Example: 10 combined kills + 6 points for 3rd place = 16 points.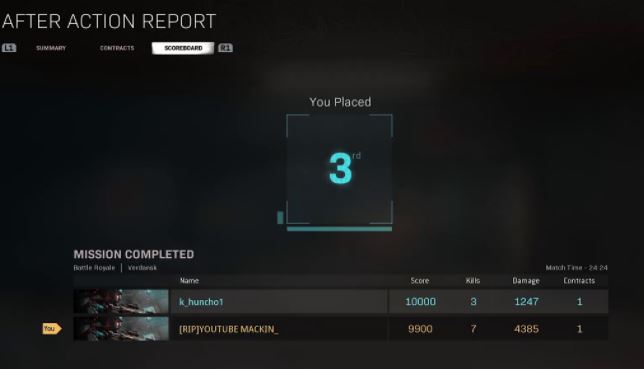 Placement Points: 1 point awarded per kill
Placement Points:
10 points for 1st place
8 points for 2nd place
6 points for 3rd place
4 points for 4th place
2 points for 5th place
Results: The team with the best total score at the end of the 3 games will be the winner and announced on the tournament page. After the 3rd game concludes, players will have 15 minutes to submit scores. No late submissions will be taken into account for scoring.
Ties: If a tie occurs, the winner will be the team with greatest total damage for their 3 games. (Total damage calculated by adding up team damage from all 3 games).
Dispute: If you want to dispute the match, email support@dropingaming.com and upload evidence to back up your claim. All disputes will be reviewed by our gaming analysts to determine the final outcome.
Streaming: We recommend streaming to avoid any cheating allegations. If streaming, confirm "Streaming" when creating your team on the given competition. Players can also post in community chat with their stream info as well.

Disconnections: If you disconnect please send a private message to support@dropingaming.com or a member on Discord so we can invite you before the next game starts. Discord: https://discord.gg/rhCQgHkNg3
In-Game Glitches: Any player/team using an in-game glitch intentionally to give them an advantage, will be kicked from the tournament with no refund and potentially banned.