You have 3 hours to play and submit your best three games under the tournament you registered for on the Drop-In Gaming website. Example: Tournament begins at 4:00pm you have until 7:00pm to play your games, submit your scores with photo/video evidence. Failure to submit your scores and upload proof (pictures/video) will result in a 0 for you. You must submit your own replay for your eliminations and add your placement points into the overall score. Example: Game 1, you have 8 eliminations and you place 6th. You would submit a score of 24 points.
Format: You will be joining a ZERO BUILD battle royale game (Solo, Duo, Trio or Quads) No fill must be on.

Scoring: 1 point per elimination
Victory Royale: 25 points
2nd: 22 Points
3rd: 20 Points
4th: 18 Points
5th: 17 Points
6th: 16 Points
7th: 15 Points
8th: 14 Points
9th: 13 Points
10th: 12 Points
11th: 11 Points
12th: 10 Points
13th: 9 Points
14th: 8 Points
15th: 7 Points
16th: 6 Points
17th: 5 Points
18th – 19th: 4 Points
20th – 21st: 3 Points
22nd – 23rd: 2 Points
24th – 25th: 1 Point

You are responsible for submitting scores under the tournament you're registered for on our site. You must have replays turned on in Fortnite. Screenshots must come from the replays section on the career tab in the main lobby. Being unable to submit screenshots due to a full replay library or corrupt files are at the discretion of the competitors. Other forms of score submissions will not be accepted. We recommend clearing out your replay library prior to the start of the tournament.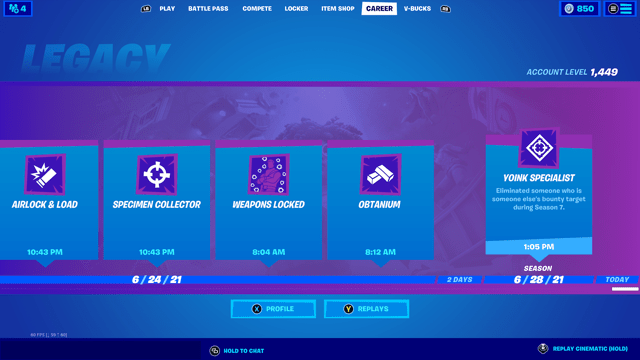 Results: The individual with the best total score at the end of the time frame will be the winner and announced on the tournament page. If there is a tie both players will be notified. The tiebreaker is the individual with the most kills throughout the tournament. (If there is a tie after that, the player with the average highest placements in their recorded three games will win).

No late submissions will be taken into account for scoring.
You may be required to submit additional information at the end of the tournament to help confirm results. Failure to comply can impact final results.
Streaming: All console team; one player is recommended to stream. PC/PC controller team; one player is recommended to stream. Confirm "Streaming" when creating your team on the given competition. Please note; anyone who has any suspicion towards them of cheating will be required to stream. It is 100% up to our admins to make a judgement call given the evidence of a cheater. If caught cheating the team will be disqualified and banned from Drop-In Gaming.
*All players who stream are eligible to win product from SteelSeries and KontrolFreek

Disconnections: Teammate/s who disconnect during the match in a kill race will not have their kills counted towards their teams score because their name will not show up on the leaderboard at the end of the game. If you or your teammate/s disconnects during the kill race you can continue the game play and take a photo at the end of the game with the remaining teammates and have that game count towards your total score.

Social: If you are streaming or posting on social media, be sure to tag @CavsLeigonGC, @SeatGeek, and/or @dropingamingllc