You have 2 hours to play and submit your best two games under the tournament you registered for on the Drop-In Gaming website. Example: Tournament begins at 1:00pm you have until 3:00pm to play your games, submit your scores with photo/video evidence. At least one player on each team must have the clan tag provided by Drop-In Gaming in their clan tag. The clan tag will appear on the tournament page you're registered for 5 minutes before the start time. Failure to submit your scores and upload proof (pictures/video) will result in a 0 for your team.
For this tournament, your team will be dropping into a Quads lobby. This is an Open KD tournament. All KD's are eligible for this tournament.
Scoring: 1 point per kill.
The team is responsible for submitting scores under the tournament you're registered for on the Drop-In Gaming website.

Results: The team with the best total score at the end of the time frame will be the winner and announced on the tournament page. If there is a tie both teams will be notified. The tiebreaker is the individual with the most kills on any given team. (If there is a tie after that, the team with the most damage in their submitted games will win).
No late submissions will be taken into account for scoring.
Streaming: All console team; one player is required to stream. PC/PC controller team; one player is required to stream. Confirm "Streaming" when creating your team on the given competition. Please note; anyone who has any suspicion towards them of cheating will be required to stream. It is 100% up to our admins to make a judgement call given the evidence of a cheater. If caught cheating the team will be disqualified and banned from Drop-In Gaming.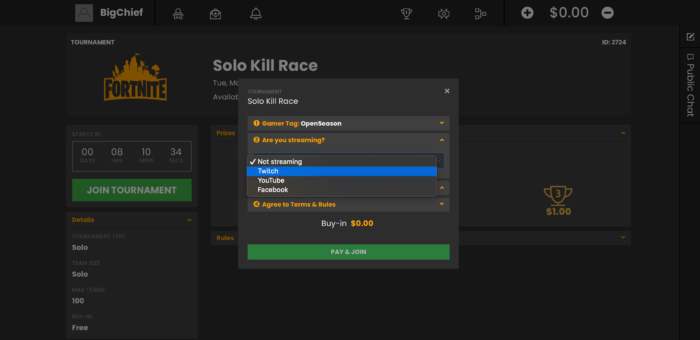 Disconnections: Teammate/s who disconnect during the match will be able to get their scores before disconnecting via COD Tracker. If you or your teammate/s disconnects during the kill race you can continue the game play and take a photo at the end of the game with the remaining teammates and have that game count towards your total score if you're not able to get photos from COD Tracker before the time limit.

If you can't stream please send us a note as to why (support@dropingaming.com)
Social: Each team should post at least once on social media before the tournament, tagging Drop-In Gaming on any platform. View any of our socials on our Linktree (linktr.ee/Dropingamingllc). Also, those streaming must put "#Dropingaming" in the title of their stream so we can find you on Twitch.